Photo by Bobbie Carroll
Carol's by Candlelight at Karekare Waterfall, Dec '05.
Photo: Bobbie Carroll
A huge billboard advertisement in Auckland City, advertising the Mini, (with surf board of course) - shows just how iconic Piha is to Auckland - I think the numbers might be an exaggeration ???
For more great photos of Piha Beach go
HERE
CLICK ON ANY IMAGE TO ENLARGE
Arial photo of Piha Beach taken by John Burns in January '05.
Click to enlarge and the X shows where Piha Beach Accommodation is . . .
For more John Burns photos see John's website
New Zealand's Best:
Maz Quinn (front) and Bobby Hansen (left) and Daniel Kereopa (between them)

Piha Beach - Labour Weekend '05
Photo by: Bobbie Carroll

Andy Irons

Piha Beach, 22 Oct '05.

Thanks to Vodafone NZ
Photo by: Bobbie Carroll

For more great photos : PihaNZ.co.nz

Looking up Piha Lagoon from the base of Lion Rock
Looking down on Karekare Beach from Piha Road on a moody and misty day.
Piha Lagoon Rushes
Piha Lagoon rushes - closeup
The Nikau usually flowers around Sep/Oct to welcome spring. The seeds are loved by the Wood Pigeon and Tui. A few months later tens of baby Nikau sprout below.
The Tui Suite
double bedroom
1/3 of the way between Titirangi and Piha


Arataki Visitors Centre
A NZ fern slowly opening. Click on either to see a larger image of this fern.
Kitekite Falls - beautiful walk from the end of Glen Esk Road, Piha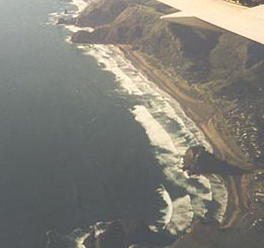 A birds eye view of Piha. Two thirds of the way down the photo you can clearly see 'Lion Rock' - an icon of Piha and indeed Waitakere AND 2 minutes walk from us!

To see some more great photos of Piha Beach New Zealand LOOK HERE
---
All content on this website is copyright either by the owners or explicity. If you wish to use any content please email the owner for permission The Owner: pihabeach.co.nz